Find a Gastroenterologist
The first step to getting your ulcerative colitis (UC) under control is finding a doctor who specializes in treating inflammatory bowel disease (IBD). 
A gastroenterologist (or GI) is the most qualified health care specialist to diagnose inflammatory bowel disease (IBD), including UC.
Please note: While we update our specialist directory regularly, this list may not have the latest provider information. The results shown may not reflect all of the gastroenterologists in your area. AbbVie has compiled a list of specialists in this directory.
---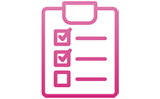 Already working with a gastroenterologist?
You may already be receiving treatment for your moderate to severe ulcerative colitis. But, if you're still experiencing symptoms, it may be time to talk to your gastroenterologist about HUMIRA.
Answer a few quick questions to instantly receive a personalized Doctor Discussion Guide for your next doctor's appointment.