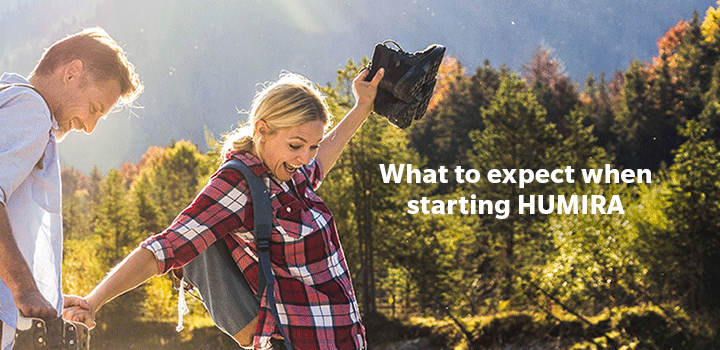 HUMIRA can help relieve pain, swelling, and joint stiffness

Some patients taking HUMIRA plus methotrexate saw results in as quickly as 2 weeks. For others, it can take up to 3 months or longer. If it's working, you'll likely notice less pain, swelling, and joint stiffness. Individual results may vary.
HUMIRA dosing and administration
The recommended dose is 1 HUMIRA Pen or syringe (40 mg) every other week. Some patients not taking methotrexate may benefit from increasing the dosage of HUMIRA to 40 mg every week or 80 mg every other week. HUMIRA is given by an injection under the skin. Always follow your doctor's instructions.
What you need to know about HUMIRA Citrate-free.
It's the same HUMIRA you've come to count on, plus:
A thinner needle

50% less liquid to inject

A larger viewing window

Less pain immediately following injection*
*Compared to HUMIRA 40 mg/0.8 mL.
Your first injection must be given under the supervision of a health care professional. Make sure you have been shown how to inject HUMIRA before you do it yourself. If your doctor determines that it's ok, HUMIRA can be taken at home.

Proper injection technique is important. Watch this demonstration video for step-by-step instructions on how to inject HUMIRA.

If you have any questions about injection, you can speak to a registered nurse about your HUMIRA treatment and request in-person injection training. Just call 1.800.4HUMIRA (1.800.448.6472).

For more information, refer to the Patient Instructions for Use, and the Medication Guide located inside your HUMIRA carton, and within the Full Prescribing Information.

Common side effects of HUMIRA include injection site reactions such as pain, redness, rash, swelling, itching, or bruising around the injection site. Call your doctor if these symptoms do not go away within a few days or get worse.
If you experience any adverse reactions or discomfort when taking HUMIRA, discuss them with your doctor right away.
Resources designed with you in mind

HUMIRA Complete: Personalized services there when you need them.
We understand that starting a new routine can take some getting used to. So when you make a commitment to treat your RA symptoms with HUMIRA, we make one to you—through HUMIRA Complete.
It's personalized service that begins the moment you enroll—at no additional cost.

Ready to connect with a Nurse Ambassador?*
Once you've enrolled in HUMIRA Complete, you'll receive a phone call from your dedicated Nurse Ambassador. Your Nurse Ambassador is committed to helping you get off to a good start on HUMIRA, and stay on track with your treatment plan as prescribed.
*Nurse Ambassadors are provided by AbbVie and do not work under the direction of your health care professional (HCP) or give medical advice. They are trained to direct patients to their HCP for treatment-related advice, including further referrals.