What causes psoriatic arthritis and what are psoriatic arthritis symptoms?
Psoriatic arthritis affects your body inside and out.
The causes of psoriatic arthritis aren't fully known, but many experts believe it's a combination of factors, which may include genetics as well as infections or extreme stress that triggers the immune system into overdrive in people who are genetically more likely to get the disease.
Immune system
Some people with psoriatic arthritis may have too much of a protein called tumor necrosis factor (TNF)

TNF contributes to inflammation in the joints, which can lead to the pain and stiffness of psoriatic arthritis
Genetics
Psoriatic arthritis tends to run in families
Environment
Infections, particularly streptococci and staphylococci

Physical injury
What are symptoms of psoriatic arthritis?
While psoriatic arthritis symptoms vary from person to person, they commonly affect skin and joints. However, psoriasis symptoms usually come first. In fact, 30% of people with psoriasis may develop psoriatic arthritis. Symptoms like red, scaly patches can appear on any part of your body. However, some people have few or no skin symptoms at all.
Joint tenderness, swelling, and stiffness can follow years after skin symptoms start. And over time, if left untreated, psoriatic arthritis can cause permanent joint damage.
Other psoriatic arthritis symptoms may include:
Pitting of the nails or separation from the nail bed

Pain and stiffness in the neck and lower back

Morning stiffness

Reduced range of motion

Painful, sausage-like swelling in fingers and/or toes

What you may see on the outside. What you may feel on the inside.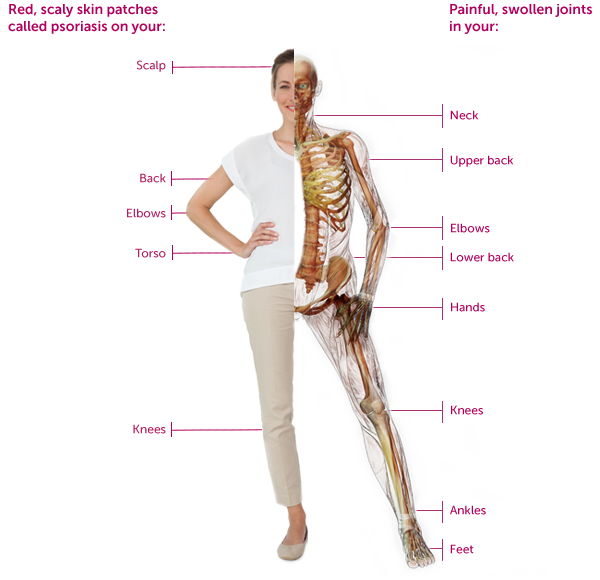 Some people have psoriasis symptoms for 10 years before they ever experience joint pain.
You may experience joint stiffness lasting 30 minutes or more after you wake up. These symptoms can make even simple tasks, like getting dressed or getting in and out of a car, hard to do.
Do you have symptoms of psoriatic arthritis? Take the Symptom Quiz on the next page and share the results with your doctor.
Almost 50% of patients not on therapy will have joint damage within the first two years of diagnosis.
©2015 American College of Rheumatology. Used with permission.

Psoriatic arthritis is a chronic disease, so the treatment focus is on controlling symptoms and helping to prevent further irreversible damage to your joints.

Get help identifying your skin and joint symptoms. Take the Symptom Quiz and share the results with your doctor.
---


Did you know that delaying treatment for psoriatic arthritis may lead to irreversible joint damage?
See how others responded.
A study has shown that almost 50% of psoriatic arthritis patients showed permanent joint damage within the first 2 years of diagnosis. Early diagnosis and treatment is so important.