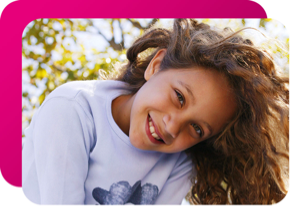 Learn if HUMIRA may be right for your child
HUMIRA is a prescription medication approved to treat moderate to severe pediatric ulcerative colitis (UC) in children as young as 5 years of age. HUMIRA can be administered by you, or your child, at home using the auto-injector Pen or prefilled syringe.
Be sure to get trained by a health care professional on how to prepare and administer HUMIRA before doing it yourself. Your child's first dose of HUMIRA must be given under the supervision of a health care professional.
Watch to See How HUMIRA Works
HUMIRA can reduce the damaging inflammation of the digestive tract that is associated with moderate to severe pediatric UC.
One factor involved in pediatric UC is the overproduction of an inflammation-causing protein called "tumor necrosis factor alpha" (TNF alpha) that occurs naturally in the body.
HUMIRA specifically binds to TNF alpha and blocks its interaction with other cells. This helps reduce the systemic inflammation that can lead to pediatric UC and can help your child achieve and maintain remission—few or no symptoms. With their symptoms under control, your child may be able to return to the activities they enjoyed previously.