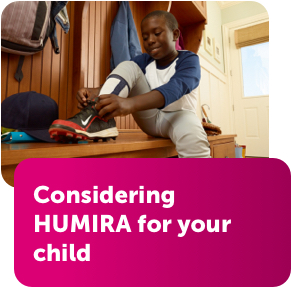 HUMIRA is a prescription medicine used to treat moderate to severe Crohn's disease (CD) in children 6 years of age or older.

The goal of pediatric CD treatment is to achieve and maintain remission.
HUMIRA can be administered by you, or your child, at home.
Your child's first dose of HUMIRA must be given under the supervision of a health care professional.
Watch to See How HUMIRA Works
HUMIRA can reduce the damaging inflammation of the digestive tract that is associated with moderate to severe pediatric CD.
One factor involved in pediatric CD is the overproduction of an inflammation-causing protein called "tumor necrosis factor alpha" (TNF alpha) that occurs naturally in the body.
HUMIRA, a biologic, specifically binds to TNF alpha and blocks its interaction with other cells. This helps reduce the systemic inflammation that can lead to the symptoms of pediatric CD, and can help your child achieve and maintain remission—few or no symptoms.
Ask your child's doctor about the benefits and risks of HUMIRA.
It's important that both you and your child speak with your child's gastroenterologist about the benefits and risks of taking a biologic medication. It may also be important that your child understands what is happening inside his or her body and the decisions that have been made about his or her treatment plan. Prescription medications, including HUMIRA, have possible risks involved with treatment, so it's important to discuss these risks with a doctor. HUMIRA is not right for everyone.
Because HUMIRA blocks the action of TNF, it can lower the ability of your child's immune system to fight infections. Your child should not start taking HUMIRA if he or she has any kind of infection unless your child's doctor says it's okay. People treated with HUMIRA have an increased chance of developing serious infections that may lead to hospitalization or death, and may increase the chance of getting lymphoma (including a rare kind), skin or other cancers. You should discuss the potential benefits and risks of HUMIRA with your child's doctor.
HUMIRA can be administered to your child using the HUMIRA Pen.

HUMIRA is also available as a prefilled syringe.
If you use the HUMIRA Pen, you can expect:
That you, or your child, can administer treatment in your own home after proper training by a health care professional
A thinner needle* compared to original HUMIRA presentation
Not to see the needle before or during the administration process
*Compared to HUMIRA 40 mg/0.8 mL.

Personalized support for you and your child
With HUMIRA Complete, you have access to helpful resources, ways you could save on your child's prescription, one-to-one support from a dedicated Nurse Ambassador, and more. HUMIRA Complete makes it easier to get the support you and your child need.
Connect one-to-one with a Nurse Ambassador*
Your Nurse Ambassador can provide you and your child with one-to-one customized support and assist you with other resources provided through HUMIRA Complete. Learn more
Most patients pay less than $5/month†
The majority of HUMIRA patients pay $5 or less per month, every month,† with the HUMIRA Complete Savings Card. Get started

Have insurance coverage questions?
To help you get off to a good start with your HUMIRA prescription, Insurance Specialists are available to help you understand your HUMIRA coverage.
*Nurse Ambassadors are provided by AbbVie and do not work under the direction of your health care professional (HCP) or give medical advice. They are trained to direct patients to their HCP for treatment-related advice, including further referrals.
†Terms and Conditions apply. This benefit covers HUMIRA® (adalimumab) alone or, for rheumatology patients, HUMIRA plus one of the following medications: methotrexate, leflunomide (Arava® ), or hydroxychloroquine (Plaquenil® ). Eligibility: Available to patients with commercial prescription insurance coverage for HUMIRA who meet eligibility criteria. Co-pay assistance program is not available to patients receiving prescription reimbursement under any federal, state, or government-funded insurance programs (for example, Medicare [including Part D], Medicare Advantage, Medigap, Medicaid, TRICARE, Department of Defense, or Veterans Affairs programs) or where prohibited by law or by the patient's health insurance provider. If at any time a patient begins receiving prescription drug coverage under any such federal, state, or government-funded healthcare program, patient will no longer be able to use the HUMIRA Complete Savings card and patient must call HUMIRA Complete at 1-800-4HUMIRA to stop participation. Patients residing in or receiving treatment in certain states may not be eligible. Patients may not seek reimbursement for value received from the HUMIRA Complete Program from any third-party payers. Offer subject to change or discontinuance without notice. Restrictions, including monthly maximums, may apply. Patients who are members of insurance plans that claim to reduce or eliminate their patients' out of pocket co-pay, co-insurance, or deductible obligations for certain prescription drugs based upon the availability of, or patient's enrollment in, manufacturer sponsored co-pay assistance for such drugs (often termed "maximizer" programs) will have an annual maximum program benefit of $6,000.00 per calendar year. This assistance offer is not health insurance. To learn about AbbVie's privacy practices and your privacy choices, visit www.abbvie.com/privacy.html
Arava and Plaquenil are registered trademarks of their respective owners.