*Compared to HUMIRA 40 mg/0.8 mL.
The same HUMIRA you've come to count on has been redesigned with your child in mind.
Ingredients
Citrate buffers associated with pain on injection, and other inactive ingredients, have been removed
The active ingredient (adalimumab) is the same as it has been for over 15 years
Needle cover not made with natural rubber latex for both the HUMIRA Pen and prefilled syringe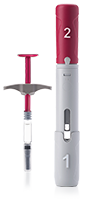 A thinner needle is just the beginning
50% less liquid inside
Same size HUMIRA Pen and prefilled syringe
Same amount of HUMIRA active ingredient
Half the amount of liquid to inject
Redesigned Pen Cap
You will notice the numbers on the caps are white
Larger Pen Window
The HUMIRA Pen has a larger viewing window
Juvenile Idiopathic Arthritis disease dosing information
Important: You must pay attention to your child's starting dose—it is different than his or her maintenance dose and is a critical part of taking HUMIRA as prescribed. The doctor will take your child's weight into consideration when deciding the appropriate dose. Your child's first injection must be given under the supervision of a health care professional. Remember to keep HUMIRA refrigerated in its original container until ready for use.
Although the injection might now feel different from prior HUMIRA injections, you should continue to follow the injection technique you learned from training. There is no change in how HUMIRA is stored.