Injection training the way you choose.
Watch the self-injection demonstration videos.
You can get step-by-step instructions for injecting HUMIRA now. Select which injection option you use, and then watch the demonstration video.
Injection training support is always available.
Your HUMIRA Nurse Ambassador* can help with any questions you may have about injecting—from setting up an in-home injection training visit to connecting you with online resources.
Don't yet have a Nurse Ambassador? Sign Up for HUMIRA Complete. Once enrolled, you'll be connected with your own Nurse Ambassador, who can point you to many treatment resources, including injection training.
Your Ambassador will call you within one business day. But if you need to speak to someone sooner, call 1.800.4HUMIRA (1.800.448.6472) to speak with a registered nurse. Nurses† are on call to provide injection help and assistance to patients taking HUMIRA.
*Nurse Ambassadors are provided by AbbVie and do not work under the direction of your health care professional (HCP) or give medical advice. They are trained to direct patients to their HCP for treatment-related advice, including further referrals.
†On-call nurses are available at 1.800.4HUMIRA (1.800.448.6472) for assistance Monday through Friday, from 8 AM to 8 PM Eastern Time. At all other times, a nurse will return your call within 1 hour.
Important things to remember for your HUMIRA injection:
Your HUMIRA Pen or prefilled syringe should be stored in its original carton in a refrigerator (36°F to 46°F) until you are ready to use it. Full storage instructions are available in the Medication Guide.
If more comfortable, take your HUMIRA Pen or prefilled syringe out of the refrigerator 15 to 30 minutes before injecting to allow the liquid to reach room temperature. Do not warm HUMIRA in any other way (for example, do not warm it in a microwave or in hot water).
Do not use if the liquid is cloudy or discolored or has flakes or particles in it.
Keep HUMIRA, injection supplies, and all other medicines out of the reach of children.
When using the HUMIRA Pen:
Do not remove the gray or the plum-colored caps until right before your injection.
When the plum-colored button on the HUMIRA Pen is pressed to give your dose of HUMIRA, you will hear a loud "click."



The loud "click" means the injection has started.
Injection is complete when the yellow indicator fully appears in the window view and stops moving.
When using the HUMIRA prefilled syringe:
Always hold the prefilled syringe by the body of the syringe with the needle pointing down.
Do not drop or crush HUMIRA. The prefilled syringe is glass.
These are not complete injection instructions.
Full injection instructions are available in the Patient Instructions for Use, located inside your HUMIRA carton, and included in the Full Prescribing Information. For injection assistance, call 1.800.4HUMIRA (1.800.448.6472).
What to do if you miss a dose.
If you forget to take HUMIRA, inject a dose as soon as you remember. Then, take your next dose at your regular scheduled time. This will put you back on schedule. In case you are not sure when to inject HUMIRA, call your doctor or pharmacist.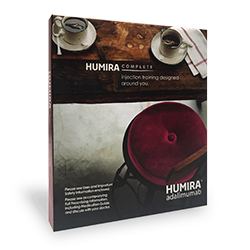 Request an Injection Training Kit for Pen or syringe that walks you through the injection steps. Includes a demonstration device and visual aid.
Enrolling in HUMIRA Complete is easy. And once you're enrolled, just enter your email address for access to most resources, like an injection training kit, travel case, and more.