HUMIRA works from the inside out.
Targeting a source of HS inflammation.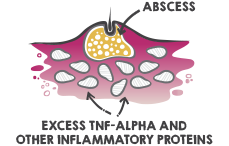 While the exact cause of HS is unknown, science has shown that HS is an immune disease.  That means you didn't cause your HS. Inflammation did. With HS, your body produces too much of a protein called TNF-alpha. This, along with other proteins, leads to the excess inflammation that contributes to the abscesses or nodules on or underneath the surface of your skin.
HUMIRA targets and blocks TNF-alpha.
To help reduce inflammation that contributes to HS, you have to treat it from inside your body, rather than focusing only on the skin symptoms you see on the outside.
HUMIRA binds to TNF-alpha proteins, blocking inflammation underneath your skin.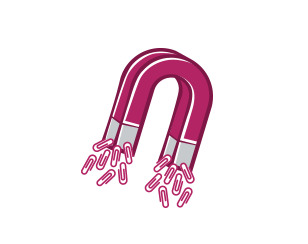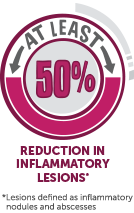 Reduced inflammation inside the body may lead to a reduction in the number of abscesses and nodules you see on your skin.
In clinical trials, HUMIRA was proven in many adult patients to reduce the total number of inflammatory nodules and abscesses by at least half without an increase in draining wounds and abscesses in just 3 months. Your results may vary.
Think about what a 50% reduction in your HS inflammatory nodules and abscesses could mean for you and discuss this with your doctor.
Understand your HS treatment options.
HUMIRA is a biologic, and the first and only FDA-approved treatment for people 12 years and older with moderate to severe HS. There are a number of different treatment options that you and your doctor may consider when deciding what is best for you. Some of these include:
Ask your doctor about the benefits and risks of HUMIRA.
Because TNF-alpha blockers, including HUMIRA, affect the immune system, they can lower the ability to fight infections and may cause other serious side effects.
HUMIRA is not right for everyone. You and your dermatologist will need to decide if HUMIRA is right for you. Talk to your dermatologist about the benefits and risks of taking a biologic medication. As with any medication, there are possible risks involved with HUMIRA treatment, so it's important to discuss them with your doctor.