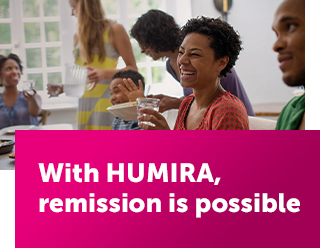 Results may be seen in as little as 4 weeks
In clinical studies at 4 weeks, many Crohn's patients on HUMIRA achieved remission (few or no symptoms) and a majority saw symptom relief.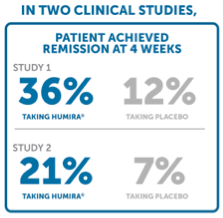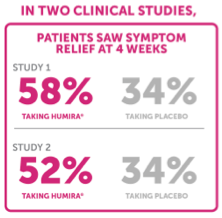 HUMIRA has helped many people notice a significant difference in their symptoms in as little as 4 weeks; however, individual results may vary. Only you and your doctor can decide if HUMIRA is right for you. Patients who do not see results within 12 weeks should talk to their doctor.
Many patients achieved lasting results with HUMIRA through 56 weeks
HUMIRA was studied in clinical trials. Two studies evaluated how many patients achieved remission within 4 weeks. Then, a third study evaluated how many patients continued to respond to treatment. Ultimately, the study showed that 40% of patients taking HUMIRA achieved and maintained remission at 26 weeks,* and 36% of those patients achieved and maintained remission at 56 weeks.†
Individual results may vary.
*Compared to 17% taking placebo.
†Compared to 12% taking placebo.