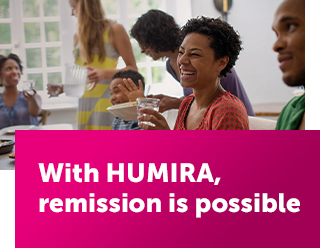 Results may be seen in as little as 4 weeks
In clinical studies at 4 weeks, many Crohn's patients on HUMIRA achieved remission (few or no symptoms) and a majority saw symptom relief.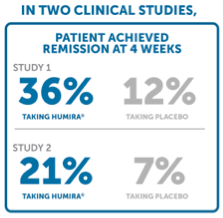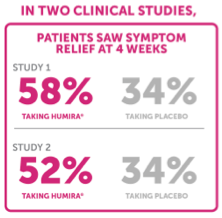 HUMIRA has helped many people notice a significant difference in their symptoms in as little as 4 weeks; however, individual results may vary. Only you and your doctor can decide if HUMIRA is right for you. Patients who do not see results within 12 weeks should talk to their doctor.
Many patients achieved lasting results with HUMIRA through 56 weeks
HUMIRA was studied in clinical trials. Two studies evaluated how many patients achieved remission within 4 weeks. Then, a third study evaluated how many patients continued to respond to treatment. Ultimately, the study showed that 40% of patients taking HUMIRA achieved and maintained remission at 26 weeks,* and 36% of those patients achieved and maintained remission at 56 weeks.†
Individual results may vary.
*Compared to 17% taking placebo.
†Compared to 12% taking placebo.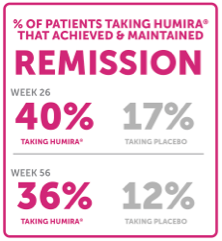 Remission has allowed me to focus on living in the moment.
- Melissa, a real Crohn's patient using HUMIRA
Wondering what it's like to be in remission? Hear from HUMIRA patients who know.
Common side effects of HUMIRA
Common side effects of HUMIRA include injection site reactions (pain, redness, rash, swelling, itching, or bruising), upper respiratory infections (sinus infections), headaches, rash, and nausea. These are not all of the possible side effects with HUMIRA. Tell your doctor if you have any side effect that bothers you or that does not go away.

HUMIRA Complete provides access to a variety of resources

You Could Pay As Little As $5/Month*
Eligible patients can pay for HUMIRA for as little as $5 per month with co-pay assistance. If you are a commercially insured patient, you may be able to reduce your out-of-pocket cost with the HUMIRA Complete Savings Card.

Ongoing Insurance Support
To help you get off to a good start with your HUMIRA prescription, Insurance Specialists will help you understand your HUMIRA coverage and answer any questions you may have.

Has COVID-19 made paying for your medicine a challenge?
*Terms and Conditions apply. This benefit covers HUMIRA® (adalimumab) alone or, for rheumatology patients, HUMIRA plus one of the following medications: methotrexate, leflunomide (Arava®), or hydroxychloroquine (Plaquenil®). Eligibility: Available to patients with commercial prescription insurance coverage for HUMIRA who meet eligibility criteria. Co-pay assistance program is not available to patients receiving prescription reimbursement under any federal, state, or government-funded insurance programs (for example, Medicare [including Part D], Medicare Advantage, Medigap, Medicaid, TRICARE, Department of Defense, or Veterans Affairs programs) or where prohibited by law or by the patient's health insurance provider. If at any time a patient begins receiving prescription drug coverage under any such federal, state, or government-funded healthcare program, patient will no longer be able to use the HUMIRA Complete Savings card and patient must call HUMIRA Complete at 1-800-4HUMIRA to stop participation. Patients residing in or receiving treatment in certain states may not be eligible. Patients may not seek reimbursement for value received from the HUMIRA Complete Program from any third-party payers. Offer subject to change or discontinuance without notice. Restrictions, including monthly maximums, may apply. Patients who are members of insurance plans that claim to reduce or eliminate their patients' out of pocket co-pay, co-insurance, or deductible obligations for certain prescription drugs based upon the availability of, or patient's enrollment in, manufacturer sponsored co-pay assistance for such drugs (often termed "maximizer" programs) will have an annual maximum program benefit of $6,000.00 per calendar year. This assistance offer is not health insurance. To learn about AbbVie's privacy practices and your privacy choices, visit www.abbvie.com/privacy.html
Arava and Plaquenil are registered trademarks of their respective owners.
Discover another treatment option.
Explore a different treatment for adults with moderate to severe Crohn's disease